Grand Noir du Berry Donkey
Origins/Breeding Area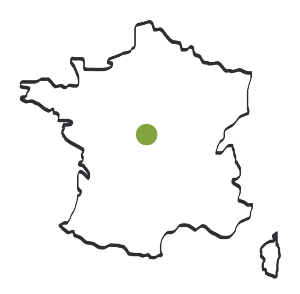 Plaques with inscriptions such as "donkey ford", "death to donkeys" or "donkey cemetery" still hang on the facades of houses along the Canal du Berry. Just like "Asnières" which is a common place name in the Berry, these bear witness to the importance of donkeys in the area for many centuries.
In the southern part of the departments of Cher and Indre (the landscape of groves known as Boischaut), with its many small farms, the donkey was the draft animal of choice for the Berrichon peasant. For work in the fields and vineyards, the selection of animals became oriented over the decades towards those who were large, docile but also lively. Furthermore, towards the middle of the 19th century, the donkeys – who were not always tall and black – replaced men for pulling the barges on the Canal du Berry or, heading towards Paris, on the Canal du Briare and its secondary canals.
Certain bibliographic sources mention the adding of blood from donkeys coming from Algeria towards 1850, following the conquest of that country. But in fact, with absolutely no official control, it is a delicate matter to follow the origins of the breed. Numerous witness accounts date from the beginning of the 20th century. From that time, and as illustrated in may old postcards, these tall, black donkeys were seen used in farm work, hitched to carts, and towing barges.
Numbers were still high enough in the middle of the 20th century, so that the Grand Noir du Berry donkeys were featured in many scenes of Jacques Tati's film "Jour de Fête" which was shot in Sainte Sévère sur Indre in 1947.
The Grand Noir du Berry donkey is the product of a peasant culture, selected principally for the needs of agriculture at its poorest.
Recognition
The Grand Noir du Berry donkey breed was recognized in 1994.
Number of Births:
In 2018: 13 births
In 2017: 27 births
In 2016: 14 births
In 2015: 27 births
Standard:
Size:
Jacks: Minimum 1.35m, maximum 1.45m (with a 2cm tolerance)
Jennies: Minimum 1.30m (with a 2cm tolerance), maximum 1.40m (with a 2cm tolerance)
Colour:
Black, with no banding on the shoulder, no dorsal band, and no lines on the legs
Abilities and Uses:
Its size, its physical strength and its docile temperament make it well-suited to leisure driving (a goal that has been stated in the breeding programme).
Nowadays, it is a companion for trekkers, and is driven both for leisure and competition. With its docile temperament and calm character, it is used in equi-therapy. Certain farmers choose it for its strength, restraint and rustic nature.
© ANR âne grand noir du Berry
© ANR âne grand noir du Berry
© Olivier Bernard – Equiphoto
Source: IFCE, national breed association, France Anes et Mulets
For More information about : Grand Noir du Berry Donkey
National breed association:
Association Française de l'Ane Grand Noir du Berry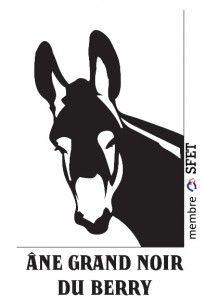 French Association of the Grand Noir du Berry Donkey
> http://www.ane-grand-noir-du-berry.fr (French only)