Landais Pony
Origins/Breeding Area: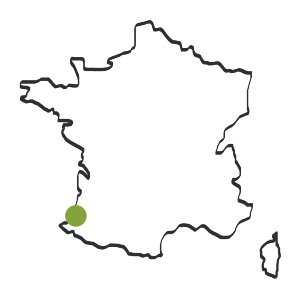 The Landais pony is a very old breed that probably descends from the Tarpan of the Russian steppes, with more recent influences of Arab and English blood (from successive invasions).
The origins of the Landais Pony are the same as for all breeds of modern horse in that they go back to the Tertiary era, well before the appearance of man.
The oldest writings suggest there was a breed of horse in Aquitaine one century BC, and mention warriors on horseback, fleeing to the marshes.
The tumultuous history of the region and the morphology of this pony suggest that there was some cross-breeding with Arab, Barb and Spanish blood, influencing the original breed on a number of occasions, but it is difficult to tell to what extent these cross-breedings influenced the actual evolution of the breed.
Historical texts suggest that there were two separate lineages in south-west France that could be distinguished according to environmental constraints:
– The Poney de la Lande, or pine pony, that evolved in the Haute Lande and Gironde
– The Poney des Barthes, or Poney Barthais, on the flood prairies along the Adour river.
Both of these populations existed as wild or semi-wild herds in great numbers until the 20th century. It would seem that the appearance of the combustion engine, and more specifically the motorcar, and the successive wars, took their toll on these animals since their numbers shrank from over 2000 at the beginning of the 20th century to 150 after the Second World War.
Saved in 1967, the breed has taken off again and the use of a few Arab and Welsh stallions gave it back some of its characteristics.
But it was only possible to save the Barthais lineage, the Poney de la Lande having totally disappeared in the 1950s.
The Landais pony is mainly found in the region of Dax, and its cradle is the department of the Landes.
Recognition:
The Landais pony breed was recognised in 1971.
Number of Births:
In 2018: 44 births
In 2017: 40 births
In 2016: 35 births
In 2015: 34 births
Standard:
Size:
From 1.18m (11.2h) to 1.40 (13.3h) for unshod stallions registered in Book A, and 1.18m (11.2h) to 1.48m (14.2h) for unshod stallions registered in Book B.
From 1.18m (11.2h) to 1.48 (14.2h), for the others.
Colour:
Coat: Bay, dark bay, brown bay, bay black, chestnut, burnt chestnut, chocolate
Abilities & Uses
A good sports partner for children, the Landais pony excels at all Olympic disciplines: dressage, show-jumping and three-day eventing. It is also sought after for its qualities as driven pony, even on racecourses, as it is an outstanding trotter.
Perfectly multi-purpose, the Landais pony is just as well-suited to being a family pet as to leisure riding, trekking, and TREC, and adapts itself to all lifestyles.

© ANR poney landais

Sources: IFCE, National Breed Organisation, Federation of Regional Horse Breeds