Youth Equi-Draft Challenge
Youth Equi-Draft
Organised for the first in 2006, Youth Equi-Draft is aimed at agricultural educational establishments (high schools, rural family homes etc.). It is a friendly challenge in the use of working equines.
Youth Equi-Draft is an opportunity for young people aiming for a career in agriculture to discover the professional uses of horse power. It is also a fun competition between the various establishments.
Events
The competition is by teams (of three to five young people) with animals (draft horses, regional breed horses or donkeys) provided by the organisers.
It is made up of varied events in the following categories:
– Breeding (grooming and handling)
– Agriculture and forestry (sleds, logging)
– Driving (harnessing, urban driving)
– Tourism and leisure (obstacle courses, ridden and with pack animals)
© Eric Rousseaux
© Clémentine Bonnin
© Clémentine Bonnin
Places and Dates
The competition is run like a championship with a number of qualifier events and a final. Each qualifier event takes place over a weekend, with two days of competition. The final occurs over single day at the Salon de l'Agriculture in Paris.
Organisation
Youth Equi-Draft is organised by CGA (General Agriculture Contest) and SFET (French Working Equine Society), in partnership with IFCE (French institute of the horse and horsemanship) and the Haras Nationaux (National Stud), along with the Fédération nationale des Centres d'Initiative pour Valoriser l'Agriculture et le Milieu rural (National federation of initiative centres to add value to agriculture and the rural environment).
> http://www.sfet.fr/ (French only)
> http://www.civam.org/ (French only)
> https://www.concours-general-agricole.fr (French only)
For More information about : Youth Equi-Draft Challenge
Images from earlier competitions are available on the SFET Faceook page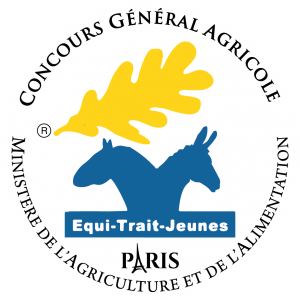 If you have any further questions, please contact us.
More documentation, registration forms, scoring grids and sponsorship files are also available on request.
The organisation can also supply invitations to one of the qualifiers to those who want to find out more about the competition.