Percheron
Origins/Breeding Area: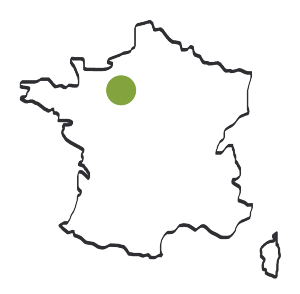 The origins of the Percheron horse go way back and the breed seems strongly influenced by oriental blood, with that influence dating back to the 8th century. It was actually said that the Percheron horse was an "Arab made bigger by the climate and the hardiness of the work it has been required to do for centuries".
The "Perche of Good Horses" lies between Mortagne (Orne prefecture) and La Ferté Bernard (Sarthe prefecture) and is located south of Normandy at the limits of the Orne, Eure et Loir, Loir et Cher and Sarthe departments. The centre of this region is the Valley of the Huisne, a small river that runs through Nogent le Rotrou, the capital of the Percheron horse.
The breeding of Percheron horses extended beyond the regions of Le Pin, Angers and Blois since there are Percherons in many areas of France, as well as in many countries (United States, Japan, Germany, Argentina, Great Britain) to which destinations exports are ongoing.
Recognition:
The Percheron breed was recognised in 1883.
Number of Births:
In 2018: 772 births
In 2017: 794 births
In 2016: 790 births
In 2015: 805 births
Standard:
There are two types of Percheron nowadays: the heavy draft and the "Diligencier" coach horse, which brings added value to the breed
© ANR percheron – type trait
© ANR percheron – type diligencier
Size:
Between 1.60m and1.85m (15.3h and 18.1h)at the Withers
Colour:
In France, only black and grey, and all shades of these, are acceptable.
Abilities:
The Percheron is noted for its power and its ability to pull heavy weights at speed. It is easy to train and of good disposition.
Uses:
The Percheron is a wonderful draft horse that is capable of intense effort. It is an excellent partner in agriculture (in particular logging), commercial driving, and, above all else, as a leisure horse.
More and more municipalities use it for urban work. Its strength and pace are valued in sports driving.
Sources: IFCE, National Breed Organisation