Northern Draft
Origins/Breeding Area: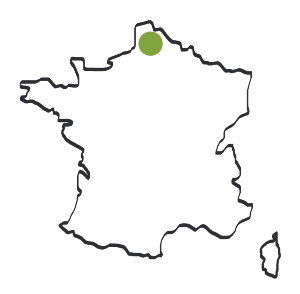 With the breed organisation established in 1903, the Trait du Nord is part of the family of Belgian and Dutch draft horse breeds that became set at the end of the 19th century. The sought-after type was as much found in Belgium's Hainault region as in the French Hainault region.
After the First World War, in 1919, the French and Belgians brought back from Germany the animals that had been requisitioned so that stocks were built up again rapidly. Only mares that conformed to the standard were registered in the main stud book. Many stallions have always been purchased in Belgium.
Between 1961 and 1992, the breed was known as the "Trait Ardennais du Nord" (Northern Ardennes Draft).
The cradle of the breed is the Hainault region.
Recognition:
The Trait du Nord breed was recognised in 1903.
Number of Births:
In 2018: 69 births
In 2017: 73 births
In 2016: 86 births
In 2013: 95 births
Standard:
Size:
Stallions and Geldings: Minimum of 1.70m (16.3h)
Mares: Minimum of 1.65m (16.1h)
Colour:
The colour is bay, roan, chestnut or red roan, occasionally steel grey or black.
Abilities:
The Trait du Nord is a large horse, well-built, with a strong muscle mass, energetic, easy to handle and with nice gait.
Uses:
Brave and with an energetic trot, as well as very supple, its uses are numerous: field work, market gardening, forest logging, maintenance of rivers, as well as competition, and driving and riding for tourism. This breed is a living representative of many traditions, such as the use of the Flemish collar and leading with lines. Thanks to these traditions which have been maintained, it is regaining its place today and is once again a role player for the future.

© Olivier Bernard – Equiphoto

Sources: IFCE, National Breed Organisation
For More information about : Northern Draft
National Breed organisation:
Syndicat d'Elevage du Cheval Trait du Nord